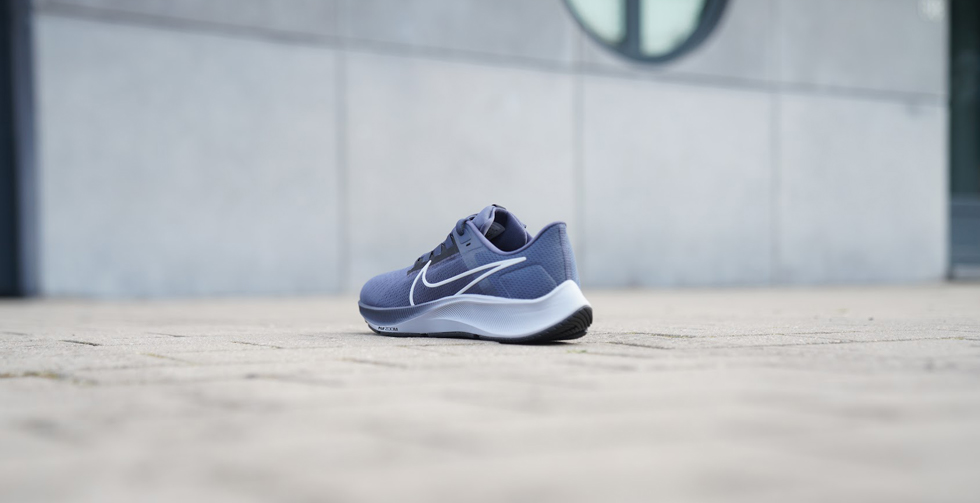 Pegasus
There is a little known fact about Nike's founder, Bill Bowerman: in the late sixties, when Nike was still known as Blue Ribbon Sports, he was instrumental in popularizing jogging in the United States. Inspired by legendary running coach Arthur Lydiard, Bowerman brought about a new era of casual athletes, all of whom needed a good pair of training shoes. By the time the eighties came around, jogging was booming, and desire for a reliable, affordable runner was high. It was the perfect moment to launch the Nike Pegasus.
Crafted under the leadership of Mark Parker, Nike's Director of Concepts, Designs and Engineering at the time, with design oversight from Air Force 1 creator Bruce Kilgore, the Pegasus came brimming with technological innovations. It was the first of Nike's running shoes to include pressurized air. No other trainer had previously contained an Air unit made specifically for the heel either. This gave it a wedge-shaped heel, which is why the Pegasus was initially called the Air Wedge Trainer. Inspired by the recent introduction of Air technology on the Nike Air Tailwind, this element was combined with improved EVA foam to give it the ability to absorb impacts in the heel like no runner before. On top of this, it was manufactured using enhanced factory techniques to produce slip lasting of a higher quality that resulted in a more flexible, lightweight shoe which was perfect for running. Alongside cutting-edge technology, there were older innovations as well. Bill Bowerman's famous waffle sole, for example, which had been around for over a decade at that point, featured in BRS 1000 rubber to form the tread pattern. This kind of simplicity was a key idea in the production of the Pegasus and one that helped keep its weight down as low as just 10 ounces. Combined, these elements made for a fantastic all-round running shoe.
When the Nike Pegasus came out in 1983, it evoked images of the mythical winged horse of Greek mythology it had been named after. Nike wanted to convey feelings of freedom along with that all-important quality of floating on air, as well as speed and reliability. They also aimed to make the Pegasus affordable and accessible – a shoe for everyone. So it proved to be, quickly becoming popular amongst casual joggers. Fans of the design soon began affectionately referring to it as The Peg. It was also used as a training shoe by long distance runners like Joan Benoit Samuelson, who would go on to wear it as she competed, eventually winning races in a later edition of the Pegasus in 2008.
Over time, the Nike Pegasus slowly changed and evolved. The 1987 variant had twice as much Air as previous models, and Nike added the word 'Air' to the title, highlighting its presence in the design. In the 90s, visible Air was introduced to the line, but its popularity began to drop. Towards the end of that decade, a group of Nike designers decided to go running together to talk about the shoe's stalling sales. Before long, they realized that not a single one of them was wearing the Pegasus – something had clearly gone awry. The team resolved to discontinue it for the time being but reintroduce it when they felt they could do the fundamental values of the model justice again. Pegasus fans, impassioned retailers and avid runners were crestfallen. They wanted to know when Nike might bring the legendary trainer back.
It turned out that they wouldn't have to wait long. The big return happened in 2000 with the Air Pegasus 2000. This updated design was the work of Sean McDowell, designer of the Nike Air Max Plus, Tim Slingsby, Footwear Product Manager for running, and Product Developer Emily Dennison. McDowell was a keen runner, and the Nike Pegasus had been a favorite of his due to its balanced cushioning. So, he took the trainer back to what he believed runners wanted: function first, aesthetics second. This explains why the re-released 2000 version abandoned the visible Air and took the Pegasus back to its roots.
The Air unit, which ran the length of the shoe, was incorporated into the midsole to save weight, and Phylon foam was added for enhanced cushioning. Bowerman's retro waffle outsole made a return, while flexible grooves and an expanded midfoot area were integrated into the design. Finally, the new additions of sweat wicking 3D mesh and 3M reflective bands boosted its practicality even further.
Since then, the Pegasus has continued to grow in stature, being released in dozens of iterations, each with their own small updates and improvements. Throughout this time, it has maintained its reputation of having a secure fit, a fact which was reinforced in 2004 when Nike released a Pegasus that catered to the shape of the female foot. Not long after this, in 2006, they also brought out a model made specifically for women.
Decisions like these have made the Nike Pegasus a favorite amongst runners, but its reliability as a training shoe has also seen it adopted by superstar athletes such as world record marathon runner Eliud Kipchoge and New York City Marathon winner Geoffrey Kamworor. In 2012, they added Zoom Air technology to the Nike Air Pegasus+ 29, giving it incredibly comfortable cushioning while making it even more lightweight, responsive and stable. Then, in 2014, Nike brought Olympic gold medallist Mo Farah on board to work as a consultant in the design of the Pegasus 31, a move which has ensured that it continues to develop in line with the running community it was built for.
Throughout its decades-long history, the Nike Pegasus has traveled countless miles on thousands of runners' feet, supporting them through the highs and lows of the sport along the way. It has changed and evolved, becoming one of the most popular and best selling running shoes of all time in the process. Nevertheless, the fundamental ethos of the original silhouette has never been forgotten. The Pegasus was and always will be a runner for everyone.