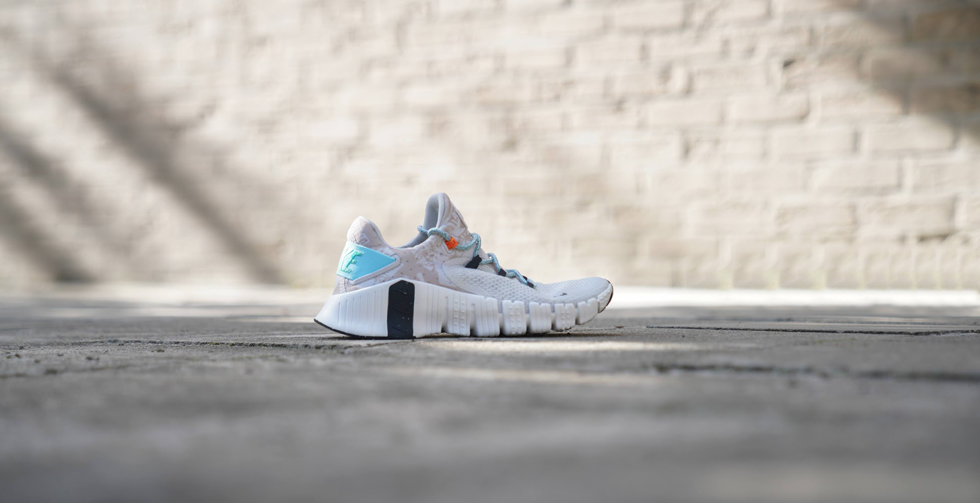 Metcon
At the turn of the new millennium, CrossFit was officially established. Since then, it has grown into a global fitness phenomenon with thousands of dedicated gyms around the world. More than 10 years after it was first founded, Nike began to design a shoe made specifically for those participating in this high-intensity sport. For its other sporting lines, Nike had been able to create models to support just a few specific motions, such as the pivots of basketball, the fast turns of speed seen in football and the repeated impacts of running. To create an effective CrossFit trainer, many different technologies would have to be incorporated to allow the wearer to confidently undertake a wide range of training movements, from powerlifting to gymnastic-type exercises. In doing so, the brand constructed a CrossFit shoe with the versatility to match the sport. They called it the Nike Metcon 1.
The name Metcon is derived from the term 'metabolic conditioning', something people hope to gain from doing CrossFit. The inspiration behind the shoe's design was the sport itself, with multiple sections making it highly adapted to a huge range of fitness activities. Based around an X-shaped build, which was apparent in the aesthetic of the outer when viewed side-on, it was broadly divided into four sections, each one serving a different purpose. Across the top portion, Nike's Flywire technology was used to provide flexibility while also holding the foot securely in place and preventing slippage. At the back, a broad rubber heel that was more rigid than the forefoot offered stability, while its grippy rubber outsole extended up into the shank to facilitate rope-climbing as it allowed the wearer to hook their feet around the rope and hold on using its extra traction. Finally, the front section had abrasion-resistant mesh across the toe along with flex grooves underneath to promote natural movement, ensuring mobility and protection in equal measure. This all added up to a trainer that was durable, flexible, lightweight and highly adaptable.
Though the Metcon 1 was released to the public in 2015, it first went on show in 2014 at the Southern California CrossFit Regional Competition, where it was worn by Josh Bridges, a former Navy SEAL and a legend of CrossFit. This gave it the perfect amount of exposure ahead of its launch, highlighting its utility to CrossFit enthusiasts while also drawing the attention of Nike fans.
However, shortly after the Metcon was released, Nike were presented with a challenge. CrossFit had already been around for 15 years by the time of the shoe's arrival, so another major brand had already established a formal relationship with the official CrossFit Games. Having been in place since 2011, this agreement stated that all other branded shoes were to be banned from the competition, so when Nike launched the Metcon 1, though it was popular, professional CrossFit athletes could not use it at one of the major tournaments in their calendar. Decades before, when the Air Jordan 1 was banned by the NBA, Nike's creative team had thought up a powerful response that brought even more publicity to their new model. The brand repeated this strategy with the Nike Metcon, putting out an advert featuring an AJ1-inspired red and black colourway which harked back to that historic moment. Above it was the text "Don't ban our shoe, beat our shoe", challenging others to make a training model to rival the versatility of their design. As with the Jordan before it, Nike's actions meant the ban only drew more attention to the Metcon 1. Eventually, in 2019, the CrossFit Games lifted its ban, and athletes were able to wear whichever brand they wanted.
Despite the difficulties of entering the world of CrossFit so late, Nike's first shoe to cater specifically to the sport quickly became a success. For each version that has been released since, valuable insights about its good and bad points have come in from top-class athletes partnered with Nike, including multiple CrossFit Games champion Mat Fraser. Their advice has helped to grow Nike's training department in recent times, allowing the brand to constantly improve the overall design of the Metcon and deliver shoes of a consistently high standard. As a precisely crafted performance model, it has maintained its fundamental ethos of being made to suit a range of disciplines and has been used in an array of different sports as a result.
In just a few years, the Nike Metcon has become synonymous with comfort and versatility in indoor fitness circles, where it is also known for being both supportive and durable. Although it has already gone through many changes, these foundational characteristics have always remained, giving the wearer the confidence to train using new techniques. With the Metcon on their feet, fitness enthusiasts can optimize their workouts and achieve their goals, reaching excellence in their own way. In short, the Metcon is an inspiring and empowering training shoe for all who wear it.