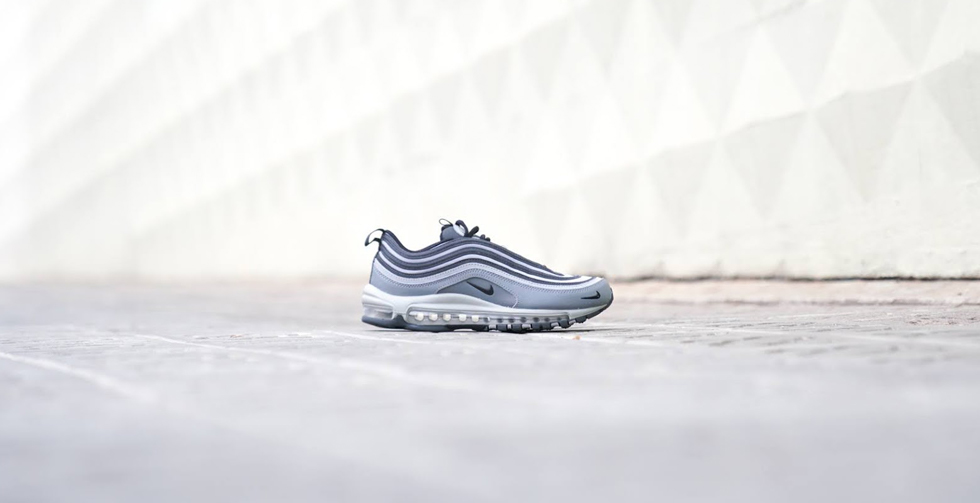 Nike Air Max 97
528 articles
The shoe inspired by a droplet of falling water that sent a ripple through sneaker history.
Air Max 97
In the late nineties, the economy, sports, and fashion were all booming. Continuing on from the precedent set by the AM95s, Christian Tresser's Nike Air Max 97 design brought extra flair, introducing the world's first trainer with a visible Air unit across the entire bottom of the shoe.
Christian joined Nike around 1996 when he was assigned to work on football boots. He collaborated on the Air Zoom GX project, which brought about the arrival of the brand's first synthetic boot: the Nike Mercurial. Before Tresser, the Air Max 97 project had already got the better of two previous designers. He was given a simple message: this shoe is going to be career-defining.
As well as having the first full-length cushioning bed, the bright reflective piping of the upper took on a unique unbroken linear style that Tresser discovered by observing the natural ripple caused by a droplet falling into water. A new sense of aesthetic smoothness was added to the Air Max range, typified by Nike's sleek new hidden lace-up system, which makes them look slick too.
First released in 1997, the Nike Air Max 97 launched in a Metallic Silver colorway which was inspired by the mountain bike designs of the time, featuring metallic finishes like aluminum and polished titanium. This is quite different to the commonly held belief that the design and colorway were influenced by the super-fast silver bullet trains of Tokyo that emerged in the late 90s, which were the reason the shoe was given the nickname "Silver Bullet."
Designed as a runner, the Air Max 97's new ventilated mechanical style panels were made of rugged engineered mesh, making the shoe even more breathable than its predecessors. The evolutionary technology continued through the use of Nike's first ever hidden lacing system and the novel introduction of the full-length visible Air unit. This high standard of design and material meant that the AM97 drew attention from other, more discerning audiences.
In 1998, several luxury fashion brands featured Air Max 97s in their catwalk shows, marking them as a phenomenon and garnering acceptance into the echelons of high fashion. Along with this, the shoe felt simultaneously retro and futuristic, which goes some way to explaining why the 97s have endured to this day; they achieved the perfect balance between performance and design.