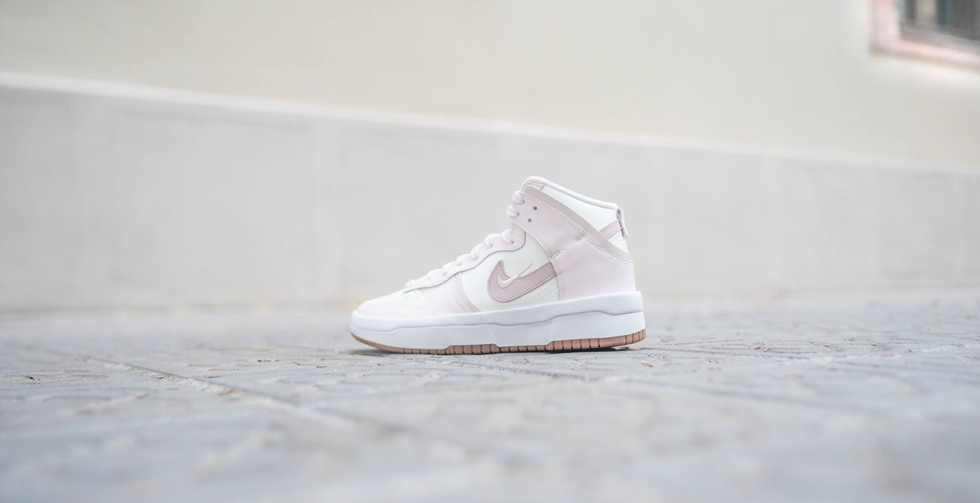 Dunk
The Nike Dunk was released in 1985 to provide men's college basketball teams with good-quality court shoes. As well as being a functional basketball trainer, the Dunk came in different colorways that represented several Division I teams, making them stand out on court while also allowing the supporters to show their allegiance. This ingenious idea proved to be a huge success, and the Dunk High quickly became well-renowned throughout the basketball community. In the years since its release, the shoe's range has expanded enormously and now includes designs for men, women, kids (both boys and girls) and even toddlers. It has also gone beyond the High version of the initial launch by introducing the Dunk Low – a highly popular style that continues to gain fans to this day. On top of this, distinct models have been created and collaborations forged, giving the Dunk one of the most rich and varied selections of sneakers in Nike's vast catalog.
Some of the earliest Nike Dunks were the two-tone designs made as official court shoes for college basketball teams. In a throwback to these beginnings, Nike re-released the sneakers in 1999 via a new set known as the Be True to Your School pack, which was named after the original slogan from the 1985 release. Many have been retroed again over the years, including the gray and navy blue Georgetown, the white and blue Kentucky, the Michigan State, with its dark green overlays, and the Syracuse, which has layers of white and bright orange. Other models with the name Retro have also been created, their design always centered around old-school university colors and the vintage look of the original.
This color-blocking style has remained a common feature of the Dunk. The typical layout is of a white midsole and upper with a second tone on the overlays and the outsole, which creates a bold tonal contrast. One of the most well-known examples of this color scheme can be found on the timeless Panda. Available as both a low-top and a high-top, its black and white outer makes it a versatile fashion choice for any occasion. The vibrant University Red and University Blue colorways also feature this traditional construction, while the pinky purple overlays of the Active Fuchsia are some of the most radiant out there. Meanwhile, sneakers like the Rose Whisper and Harvest Moon display gentler tones of soft pink and pale orange respectively. Another known as Grey Fog has soft tones on its overlays, with an elegant gray on white construction. Other designs have a vintage look, such as the Team Red, whose use of deep red on the upper and off-white over the midsole gives it a retro feel, and the Sand Drift, which has hemp-colored overlays on a sandy-toned base. In addition to these dichromatic Dunks, the all black and all white versions provide two classic sneaker options, and most other iterations combine three or more appealing tones. The Coconut Milk brings together a series of white and off-white hues, three complementary shades of pink decorate the Triple Pink and the Mocha has classic white laces and swooshes over its dichromatic brown upper. The SE edition Malachite has a mostly two-tone coloration, but powerful black swooshes reach down its flanks. A similar effect was used on the Valentine's Day themed release, which has pastel pink swooshes laid across its burgundy and off-white sidewalls.
Creative use of color is common in the Nike Dunk, but there are also those shoes, such as the various Camo colorways, that are characterized by lively patterns, intricate graphics or eye-catching emblems. For example, the unique Dunk Low Retro SE Barbershop, with its red and blue striped details, has beige filigree printed across its suede rear panel, and the Native American-inspired N7 editions often add attractive artwork like embroidered birds and flowers. Japanese inspirations can be seen on the dynamic Setsubun colorway, whose look was influenced by the sights and sounds of the festival of the same name, and the Industrial Blue Dunk Low, which is decorated with distinctive Sashiko-style stitching.
While these sneakers have defined themselves by their use of stylised patterns, many Dunk models have done so through the materials they are made of. Traditional leather forms the upper on colorways like the dusky Armory Navy, the memorable Valerian Blue and the pastel-toned Easter, but the stylish Fossil Rose employs velvety nubuck on its outer, the Tan high-top is overlaid with suede and the Certified Fresh model has a corduroy base layer. Premium editions in particular tend to have luxurious constituents, one example being the Vast Grey, with its plush suede overlays. Another is the Wolf Grey, which has additional accents made of high-quality leather alongside an inner lined with soft nylon, and a third is the Light Orewood Brown, whose canvas underlayer brings added breathability to the shoe. Elsewhere, recycled materials make the Nike Dunk Next Nature a sustainable option, and one or two designs have even added denim to the outer, for a more rugged feel.
Since the Dunk is known for having both High and Low versions, lots of these colorways can be picked up in either style. Both have a tremendous following, whether it be as a casual shoe or for use in sporting pursuits. In particular, the Dunk has been associated with skating as alterations to its general design have made it more suited to the sport. Its popularity amongst the skating community saw the Dunk become the launch sneaker for Nike's skateboarding division, Nike SB, in 2002. It was reworked into an effective skate shoe by incorporating a padded sockliner, a thick rubber sole unit and a fat tongue. Aesthetics were also important, and many SB Dunks have been well-liked both as a fashion item and for skating.
Not long after Nike SB was established, Dunk collaborations really began to take off. Some of the earliest were 2002's duo of Nike x Supreme SB Dunks, which quickly became highly sought after shoes. In the same year, Nike provided fledgling streetwear brand Undefeated with its own Friends and Family Dunk High, followed by many more colorways in the years since. In 2005, Nike established another skateboarding partnership with Jeff Staple, bringing out the renowned Pigeon SB Dunk – a hugely popular model with an embroidered pigeon on the heel to represent New York City and its most ubiquitous bird. A few years later, in 2008, the first Nike x Concepts Dunk SB Lobster design was launched. It references the classic Boston dish and has been recreated in several other colors since, including 2022's vibrant Orange Lobster. In 2020, Japanese fashion brand Ambush put out a black and white Dunk High, and Travis Scott launched his first Nike SB collaboration – a Dunk Low clad in an assortment of different materials with printed patterns such as paisley and plaid. Then, in 2021, Off-White™ produced a collection of 50 Dunk Lows as part of the brand's Dear Summer project, each with trademark Virgil Abloh features like Helvetica text and a colorful zip tie.
While these individual sneakers were created in partnership with other brands, Nike has crafted several of its own Dunk models that altered the look of the original. One is the women's-only Dunk Low Disrupt, featuring a boosted sole unit with lined formations across the outsole. The Disrupt 2 followed, opting for the same general shape and outsole design as the Dunk Low but adding details such as an offset eyelet and elastic around the tongue. It also has an additional panel enveloping its heel and an extra swoosh on its lateral side, allowing for more variations in color, which the Pale Ivory colorway has taken advantage of through the use of gray on its suede heel piece and black on its lateral swoosh.
Several other models have been added to the Nike Dunk family, all putting their own spin on the silhouette. The Twist has extra padding for a puffier look and snugger feel, the Air Dunk Jumbo has an exaggerated swoosh and chunky overlays and the Scrap is covered in a patchwork mosaic of leather, canvas and suede pieces decorated in various tones, such as the white, gray and beige of the Sea Glass colorway. These shoes have all made their mark, expanding the rich history of the original sneaker.
From its humble beginnings in college basketball to its adoption by luxury fashion brands, the Dunk has had an incredible journey. As a sports shoe, it defined an era of basketball before becoming a staple of the skating community. Having solidified its place within sneaker culture, it is now worn by fans all around the world – the Nike Dunk is a truly global phenomenon.