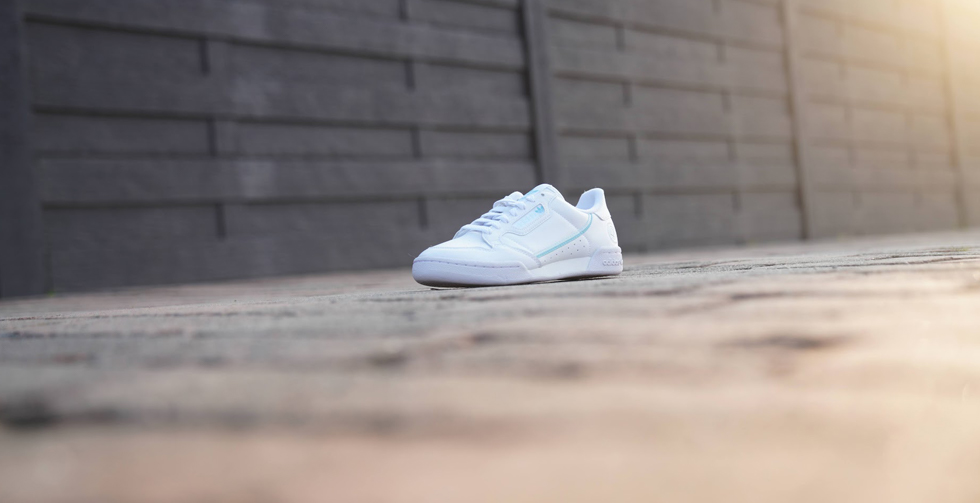 Continental 80
Though adidas had been successful with their Stan Smith silhouette through the 60s, 70s and 80s, they also needed their next generation of silhouettes to start to shine through. This when they turned their attention to designing the original Continental, drenching it in the spirit of the 80s.
Designed in France, the Continental took the standard tennis shoe silhouette of the time and upgraded it with two robust cupsoles, an EVA foam midsole, terry cloth lining and a window containing the adidas branding. The Continentals featured tennis sole cushioning technology adapted to the increasingly mainstream aerobics, gym and personal fitness markets. It also allowed fantastic ease-of-movement, was ultra-chic, and yet, before long, it was discontinued…
… but it wasn't forgotten.
Fast-forward to 2018, and trainer designs of the time were referencing the bulky, extraverted energy of the 90s. This might have seemed an odd time to release a minimalist eighties shoe, but in bringing out the Continental 80, that's exactly what adidas did. The adidas Continental 80 came with an upper made of luxurious tumbled grain leather, two blue and red side stripes, and perforations almost identical to the original. The French terry cotton lining restored a sense of the continental's heritage, the EVA foam OrthoLite® of the sockliner helped pad out the midsole and the adidas trefoil logo stamped its authority across the shoe.
This 80s-influenced silhouette released as one model in the "Yung" series seems to have resonated with modern sneaker culture. One explanation for this might lie with one of adidas' most influential collaborators – Kanye West.
The Yeezy Calabasas Powerphase, designed by Ye, was released on 17th March 2018 to much fanfare and the Continental 80 shortly after, in June 2018. While the Powerphase was based on the original adidas Powerphase, it shared a very similar aesthetic with the Continental 80s, except for in its dual stripes. As stocks of the Yeezy were limited, many enthusiasts moved on to the Continental 80 because it was very similar, and, unlike the Calabasas, it was actually available.
In its own right, the adidas Continental 80 is still a stylish, desirable sneaker with character. While its days as a sports shoe are over, this unmistakably eighties shoe has now found a new generation to inspire.