CI0919-100
Nike Air Force 1 Shadow
"Triple White"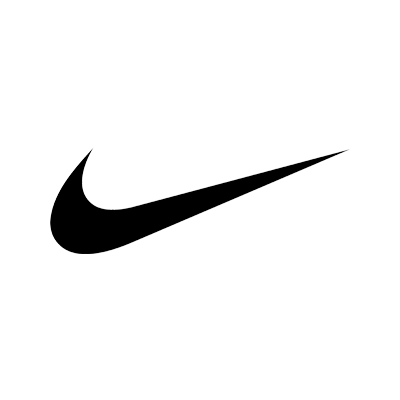 CI0919-100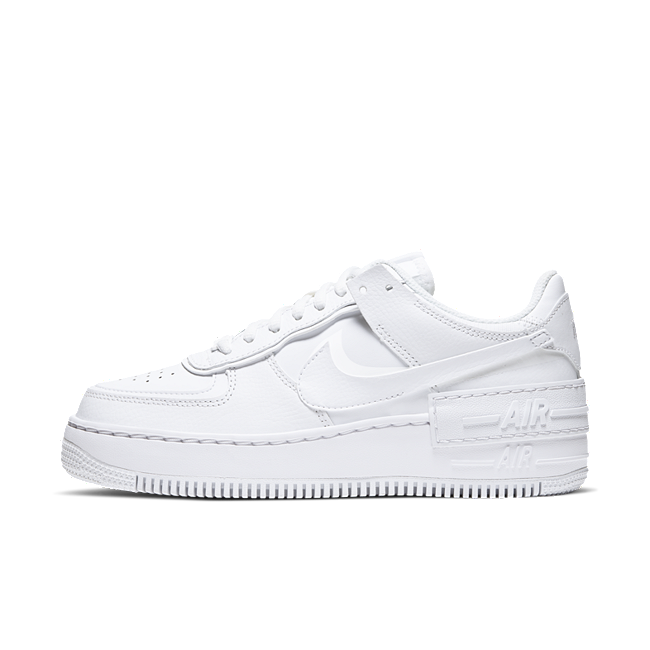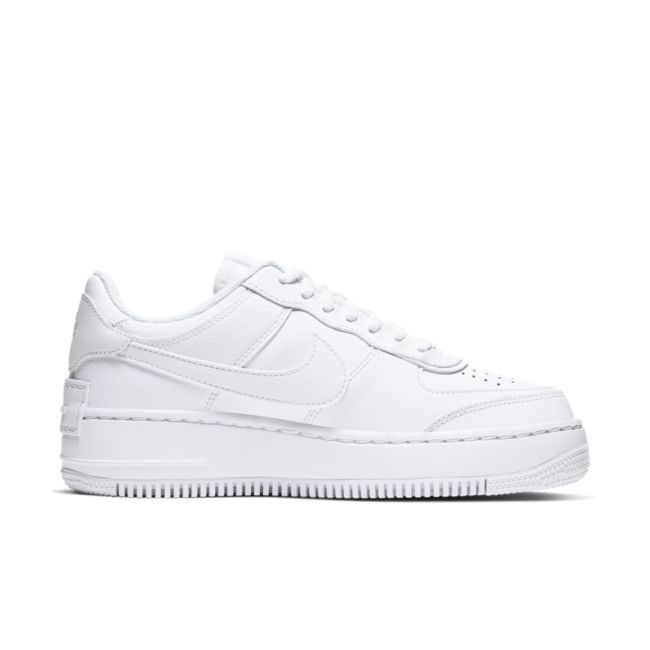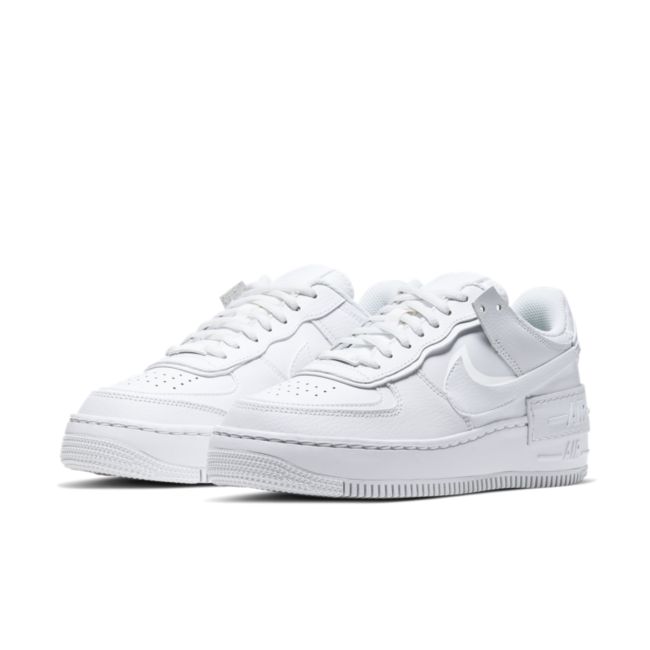 These triple white Nike Air Force 1 Shadow sneakers feature a single tone across almost the entire design, bringing them a remarkable elegance. Multiple layers create depth and intrigue across the upper, while a raised midsole lifts the wearer a few extra millimeters off the ground. Underneath this cushioned section lies a white outsole with deeply grooved circles arranged in rows that radiate outwards from one central point under the middle of the heel and another below the medial forefoot. These grip patterns work together with the lugs and star-shaped tread constructions around the rim of the outsole to provide excellent traction underfoot.
Around the lateral heel, a strip of textured white rubber crosses from the midsole to the upper. It is embossed with a pair of thick lines, in the center of which is a set of Air lettering that emulates the text on the midsole below, only in a larger font. On the main part of the upper, synthetic materials mix with real leather to forge textured panels in the forefoot and rear alongside smooth sections across the midfoot and toe box. This feature contains a grid-shaped network of perforations whose arrangement is mirrored from the left foot to the right. Another layer of smooth white leather is squeezed in between the toe box and the forefoot overlay, and a similar stacking effect has been achieved on the eyestay, which has a second layer visible along its lateral and bottom edges. AF1 text is subtly indented into the bottom of the main eyestay, just below the white lace dubrae, which has the same branding debossed into its surface.
The white mesh tongue is adorned with a duo of patches, both in white with barely perceptible Nike Air text sewn into them. The inner lining and insole are also made from a breathable mesh for softness and aeration around the foot. Here, on the insole, the shoe's only deviation from its white theme occurs in the form of two sets of Nike Air branding text in black. Meanwhile, the shoe's flanks return to white across the swooshes. The medial one has been sewn down around its entire edge and extends slightly over the forefoot mudguard, but the other side exhibits a different look. It has a leather swoosh with an unstitched tail end that leaves it floating above the surface. At the tip of this tail, a small square of stitching connects the swoosh to the heel panel at the rear. Almost invisible underneath this main swoosh is another one printed in white at a slanted angle. The heel panel that the three logos meet at is embroidered with white Nike text, and the additional panel underneath it completes the layered look of this graceful sneaker.
Gender

Women

Brand

Nike

Collection

Air Force 1

Model

Shadow

Style

Low

Colour

White

Technology

Air

Sport

Lifestyle

Style code

CI0919-100